Ansley Animal Clinic does not provide grooming or overnight boarding services (visit our FAQ page to find a list of recommended boarding facilities). However, we do provide services such as nail trims, anal gland expression, ear cleaning and sanitary shaves.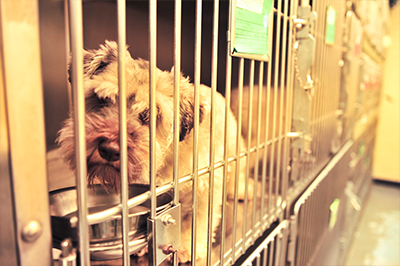 Treatment appointments are reserved for Ansley clients.
IMPORTANT: All pets must be up-to-date on rabies and be examined by one of our doctors within the past year. If you choose to go elsewhere for vaccinations, an exam is still required every 12 months to keep your pet current with our hospital and eligible for services.
Baths
We offer bathing services for both dogs and cats. We require you schedule at least 24 hours in advance so we can reserve kennel space. All dogs must be up-to-date on their Annual Exam, Distemper/Parvo vaccine, Bordetella (or Kennel Cough) vaccine, and Rabies vaccine before being bathed. All cats must be up-to-date on their Annual Exam, Feline Distemper, and Rabies vaccine before being bathed. If your pet is due, we are happy to perform your pet's exam and vaccinations the day you arrive.
We offer baths Monday – Friday and ask that you drop-off by 10am. To ensure your pet is fully dry, pickup is after 4pm. During the bath your pet will receive a complimentary nail trim. You may request a special shampoo, such as a medicated shampoo or an oatmeal shampoo for an additional fee. If your pet requires a sulfur-lym dip there is some special handling required and an added fee is incurred. Please call to schedule.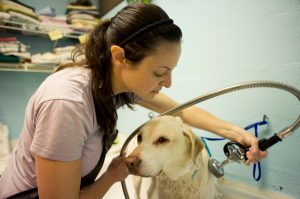 Treatments that are scheduled by appointment (as long as your pet is up-to-date on vaccines and exam):
Nail Trim
Anal Gland Expression
Ear Cleaning
Sanitary Shave

Microchip

We recommend all pets get a microchip. We implant the ResQ Microchip, which is a small informational chip placed under the skin. ResQ uses an internationally standardized technology that allows your pet's microchip to be scanned and read anywhere in the world.

In addition, we can scan other microchip brands to help reunite owners with their lost pets.  If you've found a stray or lost pet, bring it to Ansley and have us scan the pet at no charge.  If we find a chip number on a pet we call Petlink, give them the number and they give us the client information that is registered to that pet.  We then contact the owner to pick up the pet.

IMPORTANT: Don't forget to register your pets' microchip with your information and update address and phone number if it ever changes.  If the chip company does not have the correct information it is impossible for us to reunite pet and owner.

Soft Paws Application

Soft paws are soft caps you can put over your pet's nails to prevent destructive scratching or slipping on smooth surfaces. Soft paws come in a variety of sizes for cats and dogs. They can be a painless alternative to declawing your cat.

How to Apply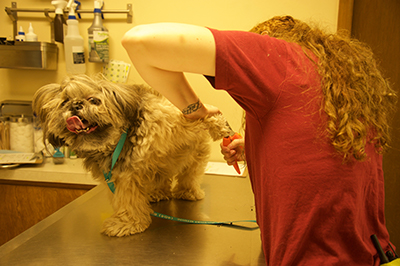 *We recommend regular nail trims to avoid breakage or other complications due to outgrown quicks. Please keep in mind if your pet's nails are very long it may take a few trimmings to get them to the desired length.
Other Services