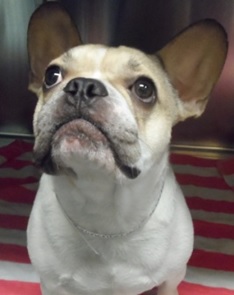 This issue's featured pet is Macho, a 2 year old French Bulldog owned by Liz and Craig Kronenberger. Macho is so sweet and just a joy to be around. He boards with us frequently and draws lots of attention.
In June 2013, Macho was diagnosed with Addison's disease. Addison's is a disease in which the adrenal glands do not produce enough hormones. So, once a month Macho receives an adrenal hormone replacement injection and a daily dose of prednisone to treat his condition.  This has not slowed down Macho. He is a little bundle of energy and loves people.
We all look forward to Macho's visits to Ansley.