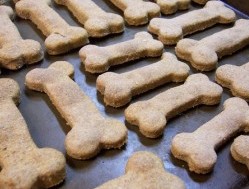 These recipes, although fun to make and tasty for your pet, are just like all recipes you may find on the internet, and may not be right for all pets. Not all pets' stomachs are "made of steel" and any new food source may cause an upset tummy.  It is important to look carefully at the ingredients and make your own determination about what may sound OK. For instance, if a recipe you happen upon calls for some type of meat, remember to cook it thoroughly: you wouldn't necessarily eat raw meat and neither should your dog or cat.
Below are two recipes that are easy to make and will be a tasty treat for your dog or cat.  You can even cut them into seasonal shapes to make them fun for the holidays! If you have another favorite recipe you'd like to share with us, send it to the office and we may publish it in a future newsletter. Happy Howl-idays, Bone Appetite!!!
Home-made Dog Biscuits
Ingredients:
3/4 cup meat drippings, or beef broth
1/3 cup margarine
1/2 cup powdered milk
1 egg
3 cups whole wheat flour
In a large bowl, pour heated meat drippings or beef broth over margarine to melt.  Add powdered milk, beaten egg and a pinch of salt.  Slowly add flour 1/2 cup at a time, mixing well.  The dough will be stiff.  Roll dough to 1/2″ thickness and cut with your favorite cookie cutter.  Place on cookie sheet treated with fat-free, non-stick baking spray.  Bake at 250 degrees for 45 minutes.  Let cool and store in air-tight container.  Makes about 2 dozen.
Cat's Meow Cookies
Ingredients:
7 oz. mashed sardines (2 cans; drain oil)
1/4 cup dry non-fat milk
1/2 cup wheat germ
Thoroughly mix ingredients together.  Roll into approximately 30 balls about the size of a marble.  Place on a cookie sheet treated with fat-free non-stick cooking spray.  Bake at 350 degrees until brown, about 12-15 minutes.  Let cool before removing.  Store soft cookies in air-tight container in refrigerator.