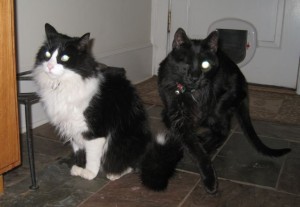 This issue's spotlight pets are owned by Katy and Rob Hutchins.  Their family consists of 2 dogs and 2 cats.  This dynamic doggie duo is full of mischief.   Chica is a leggy 4 year old Chihuahua mix, and Ethel is a hilarious 6 year old Terrier mix with a ton of personality.  Ethel is usually the leader in their shenanigans.  Their cats are Uno, the one eyed wonder who is 14 years old, and Howard who is 13.
Recently their very special 16 year old, Ferris, passed on.  Ferris was a typical food and affection loving Beagle.  If you frequent Piedmont Park, you had probably seen Ferris trotting along with his younger housemates through the years.   He was always a trooper despite his aging body and medical ailments.   Katy and Rob gave him a wonderful life, and he will truly be missed.
The Hutchin's are true animal lovers and take great care of their pets.  As you can imagine, Katy stops by frequently for one thing or another, and we are always happy to see her smiling face and her adorable four-legged kids.