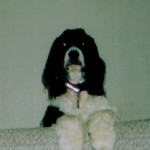 This issue's spotlight pet is Giovanti (affectionately called "G").  He is a 13 year old cocker spaniel owned by Leslie Shavlan.  Leslie rescued "G" as an older dog and has loved him from the moment she laid eyes on him.   The staff loves him too, as he is a regular to the clinic due to some skin issues.
Some of "G's" favorite things are tummy rubs and walks.  After each walk he immediately stands in front of the refrigerator waiting for his treats, which are carrots.  And as you can see by the picture his favorite spot is at the top of the stairs with his feet dangling. One of  "G's" cute skills is to flip his water bowl over when it needs refilling.
We always look forward to seeing "G"'s happy wagging tail and Leslie's smiling face.