Ansley is your neighborhood veterinarian.  Here are a few things we've done in the Midtown/Morningside neighborhood this season.
Spark Elementary Science Night
After work on  October 20, Dr. Coates and vet tech Sarah went to Springdale Park Elementary for a science night presentation.  Over several sessions they spoke to children from grades kindergarten through 5th grade.
The presentation was well received!  The kids learned about bite prevention and looked at radiographs (x-ray films…the old fashioned kind shown with a light box).
Dr. Coates also discussed surgery and "sterile technique" — in other words, each of the kids got to wear gloves and observe a teddy bear surgery.
But by far, the highlight of the evening was when the children got to meet Shadow, Dr. Wood's very friendly dog.  Future science nights may include a presentation from Amanda, one of our vet techs who has a passion for reptiles!
Splish Splash Doggie Bash
October 1, a bright and sunny Saturday, Ansley staff members (front desk receptionist/tech Rebecca and vet techs Sarah and Elizabeth) spent the afternoon at Piedmont Park's pool, participating in end-of-summer dog swim. Said Rebecca "it seemed like there were hundreds of dogs, this year. We stayed for both sessions. It was a lot of fun!"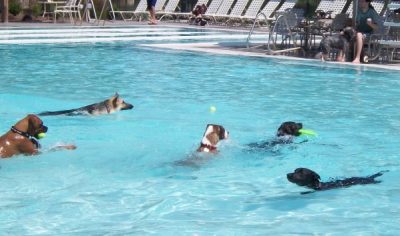 Rebecca continued, "There were dogs of all shapes, sizes and ages…puppies in swim suits–all of the off leash and excited!" Ansley staff enjoyed seeing many long time clients at the event.
There was music, pet related vendors, a raffle, food and drinks and of course swimming for our canine friends.  Proceeds went to fund the dog park at Piedmont.