…
Text updates and Reminders on your Cellphone!

On Monday, November 14, 2016, Ansley launched a smart phone app.  The app is known as PetDesk. With PetDesk you can use your phone to request an annual exam, receive reminders and status via text and e-mail, access your pet's medical history, and save/track upcoming tasks (like when vaccines are due).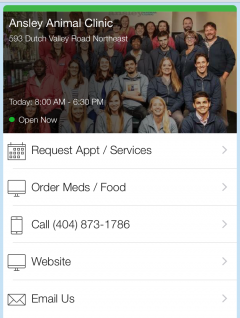 The app is meant to streamline communication for appointment reminders and confirmations as well as provide you with medical information regarding your pet(s) such as when vaccines are due and what medications your pet(s) is taking.
Our front desk staff will be here to take calls and handle concerns the new app may not be able to help you with. As always, if your pet is sick, we recommend calling our office to schedule and appointment with your veterinarian.
To add the app to your phone, search for PetDesk in your app store.  You can find out more about PetDesk by clicking here.