McKenzie's Got Game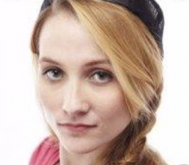 In this issue, the Ansley spotlight employee is front desk receptionist, McKenzie.
In March of 2014, McKenzie drove all night from Arkansas to Atlanta for an interview at Ansley Animal Clinic. Obviously, she got the job. The interview went well and McKenzie fit in well at the front desk.
She grew up in Yellville (yes, Yellville), Arkansas: population 1200. McKenzie had 77 people in her high school graduating class. Growing up, McKenzie loved contact sports, particularly football. Being a girl, she couldn't play football; but, she fell in love with Roller derby. More on that, later.
After graduating from high school in Yellville, McKenzie attended the University of Central Arkansas where she received her B.A. McKenzie had worked in communication and web design prior to moving to Atlanta.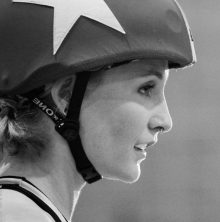 Yellville to Atlanta may seem like a sharp contrast but McKenzie had another reason for choosing Atlanta: McKenzie has a passion for Roller derby. She sought out jobs in Atlanta specifically to try out for the renowned Atlanta Roller Girls.
If you've never seen this Roller derby, it's a compelling sport played on roller skates. Opposing teams simultaneously skate counterclockwise on a circuit track. Players are either blockers or jammers.  Blockers try to help their jammer break through the line, while stopping the opponent's jammer.  Originally designed to be an Olympic sport, roller derby is the only sport in the world in which both teams are simultaneously playing offense and defense the entire game. The Jammer is the scoring position. If a jammer laps the opposing team's players, they score.
McKenzie is a jammer for the Atlanta Roller Girls. In just two years, she's risen through the ranks to become a Jammer on Atlanta's All Star roller girl team. She has played teams from around the world including teams from London (England), Malmö (Sweden), and Victory (Australia).
So if you haven't seen roller derby before, it's a very physical sport. These girls work hard and play tough. But there's a bit of humor in it, as well. Roller derby names tend to be funny. One of McKenzie's teams is called the Apocalypstix; her roller girl name is Slams McKenzie. Visit The Atlanta Rollergirls' website for more information.