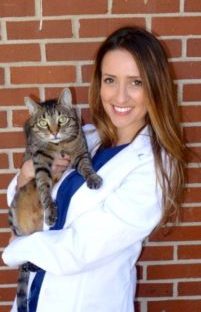 Morningside neighbors, one of your own has recently joined the team at Ansley Animal Clinic!
Dr. Michelle Hagopian joined Ansley in February. She received her degree in Veterinary Medicine from Tufts University, outside of Boston, in 2014. She received her Bachelor's in Biological Sciences from the University of Southern California. She practiced in Sandy Springs for three years prior to joining Ansley.
Dr. Hagopian's special interests include dentistry, surgery, emergency, dermatology, senior wellness, and feline medicine. She is also interested in making veterinary visits as stress free and positive for pets as possible. She lives in Morningside with her husband, two cats, a lab mix Gemma, and a tripod named Riley.